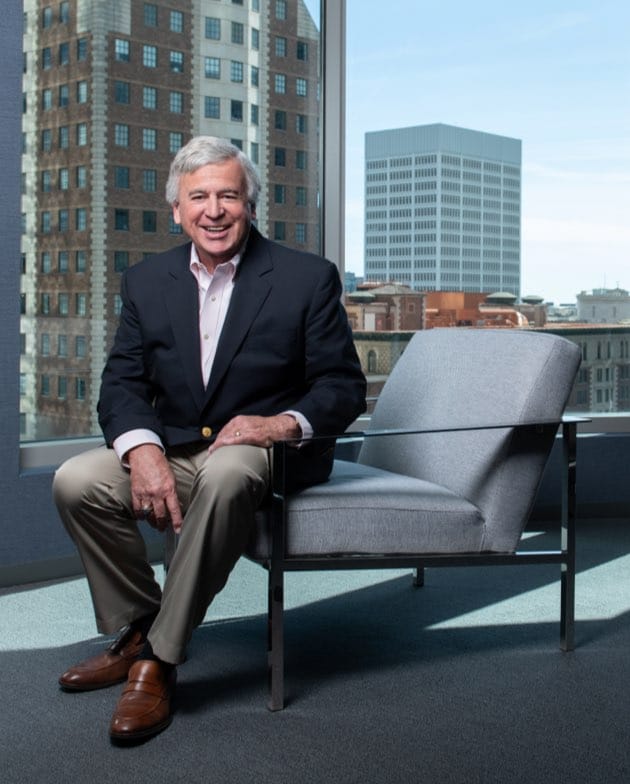 Century City | Los Angeles | San Diego
Hon. Daniel J. Buckley (Ret.)
Mediator | Arbitrator
"I believe in giving people time to talk and hearing them out. I want them to feel they got their day in court. From there, I'm able to tell them where their strengths and weaknesses lie and advise them on the best course of action."
Practice Areas
Business and Commercial Contracts
Catastrophic Injury
Class Action
Construction
Employment
Entertainment
Insurance
Intellectual Property
Mass Tort
Premises Liability
Real Estate
Education
J.D., University of Notre Dame
B.A., University of Notre Dame
Biography
Hon. Daniel Buckley (Ret.) brings over 40 years of experience, innovative thinking, and leadership skills to Signature Resolution. His background as a litigator in private practice and a judge, including as the Presiding Judge of Superior Court of California, County of Los Angeles—the largest court in the country—makes him the perfect choice for litigants in search of a balanced, insightful, and neutral facilitator and decision maker.​
 ​Judge Daniel Buckley is well known for his people skills and ability to truly listen to both parties before making a more objective evaluation of the case. His uncanny knack for understanding a case's strengths and weaknesses and his extensive experience makes him an ideal neutral. ​​
 ​Judge Buckley spent his entire attorney career at the firm of Breidenbach, Buckley, Huchting, Halm & Hamblet, where he was a general civil litigation defense attorney with a focus in the areas of toxic torts, professional negligence, personal injury, and insurance coverage. Evident by his membership in ABOTA, Judge Buckley was an experienced trial attorney. He litigated several landmark cases in the country, including Newman vs. Stringfellow, which was considered the largest toxic tort case in the early 1990s with over 4,000 plaintiffs. Judge Buckley was a co-lead trial attorney for the State of California in a year-long trial with 17 bellwether plaintiffs.​​
He left private practice in 2002 after being appointed to the Superior Court. Over time, Judge Buckley served in many leadership positions at the courts: the Supervising Judge of the East District, the Supervising Judge of the Civil Department, the Assistant Presiding and, most importantly, Presiding Judge of the Los Angeles courts in 2017 and 2018. His last assignment in the court was at the prestigious Complex Courts.  Judge Buckley handled a wide range of case types, including business and commercial, catastrophic injury, class action, construction, entertainment, insurance, intellectual property, mass tort, real estate, and many others. During his last year on the bench, he assisted in the settlement of a number of large, high-profile lawsuits, including Riot Games, the USC Tyndall case, and the UCLA Heaps case.​
 ​During his time as assistant and presiding judge in Los Angeles, he was instrumental in transforming the technology of the Los Angeles Superior Court. His efforts brought its systems into the modern age, specifically in case management and judicial administration. ​
 ​Judge Buckley is also devoted to teaching and advancing education. He has served as an adjunct professor at Notre Dame Law School, Loyola Law School, and USC Gould School of Law, teaching trial advocacy and California Civil Procedure. He taught many courses to judges on evidence, civil law, judicial administration, and ethics. Every year he was an instructor for New Judge Orientation, which covered ethics and courtroom management for new judicial officers.  ​​
Judge Buckley was recognized as Judge of the Year by CAALA (2015), Pasadena Bar Association (2015) and the Korean Community Lawyers Association (2015). Other recognitions include the Judicial Civility Award from ABOTA (2014), a Hall of Fame recipient from the Association of Southern California Defense Counsel (2015), the Administration of Justice Award from the San Fernando Valley Bar Association (2018), the Spencer Brandeis Award by the Family Law Section of the Los Angeles County Bar Association (2014), Person of the Year from Metropolitan News (2015), and the Daniel O'Connell Award from the Irish American Bar Association (2014). ​
Experience
Judge, Superior Court of the County Los Angeles, Complex Civil Department​
Presiding Judge, Superior Court of the County Los Angeles, Complex Civil Department​ (2017–2018)
Assistant Presiding Judge, Superior Court of the County Los Angeles, Complex Civil Department​ (2015–2016)​
Supervising Judge, Superior Court of the County Los Angeles, Complex Civil Department​ (2013–2014)
Assistant Supervising Judge, Superior Court of the County Los Angeles, Complex Civil Department​ (2011–2012)​
Judge, Superior Court of the County Los Angeles, General Civil Court​ (2010–2012) ​
Supervising Judge, Superior Court of the County Los Angeles, Complex Civil Department​ East District (2009-2010)
Assistant Supervising Judge, Superior Court of the County Los Angeles, Complex Civil Department​ (2007–2008)​


Probate Court (2009–2010),

Felony Trial Court, Pomona (2006–2008),

General Civil Court, Pomona (2003–2005),

Misdemeanor Calendar Court, West Covina (2002–2003) 

​​

Attorney

, Breidenbach, Buckley, Huchting, Halm & Hamblet​

(1980–2002)

​President of Firm, Breidenbach, Buckley, Huchting, Halm & Hamblet (1994–2000)
Professional Achievements and Memberships
Member, Trial Court Budget Advisory Committee: Judicial Council (2017–2022)
Chair, Executive Committee: Los Angeles County Superior Court (2017-2018)
Vice-Chair, Technology Committee: Judicial Council (2015–2017)
Vice-Chair, Executive Committee: Los Angeles County Superior Court (2015-2016)
Member, Executive & Planning Committee: Judicial Council (2014–2017)
Member, Technology Committee: Judicial Council (2014–2017)
Chair, Civil & Small Claims Committee: Los Angeles County Superior Court (2013)
Adjunct Professor, University of Southern California School of Law (2011–2022)
Member, Court Technology Advisory Committee: Judicial Council (2011–2014)
Co-Chair, Funding Methodology Subcommittee; Information Technology Advisory Committee: Judicial Council (2011–2014)
Member, Financial Accountability and Efficiency for the Judicial Branch Advisory Committee: Judicial Council (2011–2014)
Team Leader and Instructor, Criminal Law Overview (2011–2012)
Vice-Chair, ​Civil & Small Claims Committee: Los Angeles County Superior Court (2011-2012)
Instructor, Civil Law Institute (2011)
Member, Budget Committee: Los Angeles County Superior Court (2009–2010; 2013–Present)
Adjunct Professor, Intensive Trial Advocacy: University of Notre Dame (2008–Present)
Member, Executive Committee: Los Angeles County Superior Court (2008, 2011–2012)
Instructor, New Judges Orientation (2007–2022)
Chair, Technology Committee: Los Angeles County Superior Court Chair (2007–2016)
Team Leader and Instructor, CJER Evidence Class(2006–2022)
Adjunct Professor, Trial Advocacy​: Loyola Law School (2006–2021)
Instructor, Qualifying Ethics Class (2006–2020)
Vice-Chair, Technology Committee: Los Angeles County Superior Court (2006)
Member, Bench/Bar Committee: Los Angeles County Superior Court (2006–2016)
Member, Ethics Committee: California Judges Association(2006–2009)
Judicial Community Activities: Justice Corps Shadow Day (2005–2009)
Member, Technology Committee: California Judges Association (2005)​​
Member, Civil Law & Procedure Committee: California Judges Association (2004)
Member, Judicial Orientation & Continuing Education (Civil) Committee: Los Angeles County Superior Court (2004)
Instructor, Computer Skills and Jury Instructions (2003–2018)​​
Member, Technology Committee: Los Angeles County Superior Court (2003–2016)
Associate, American Board of Trial Advocates (2002-Present)
Recipient, William J. Barrett Award for Trial Advocacy (1980)
Member, National Moot Court Trial Team (1980)